CBS Survivor Buff Takeover
NEW SEASON PREMIERE Wednesday, Sept. 27 (8:00-9:30 PM, ET/PT) on the CBS and streaming on Paramount+.
Posted on Sep 20, 2023 | 12:00am
The greatest game of all time, SURVIVOR, is back! Iconic U.S. landmarks and statues throughout the country are wearing the Survivor Buff to celebrate the launch of the new season. The iconic reality series premieres its milestone 45th edition and kicks off a historic season of extended 90-minute original episodes, on Wednesday, Sept. 27 (8:00-9:30 PM, ET/PT) on the CBS and streaming on Paramount+.
Check out a sneak peek of Survivor 45:
Check out all the locations getting buffed up for Season 45: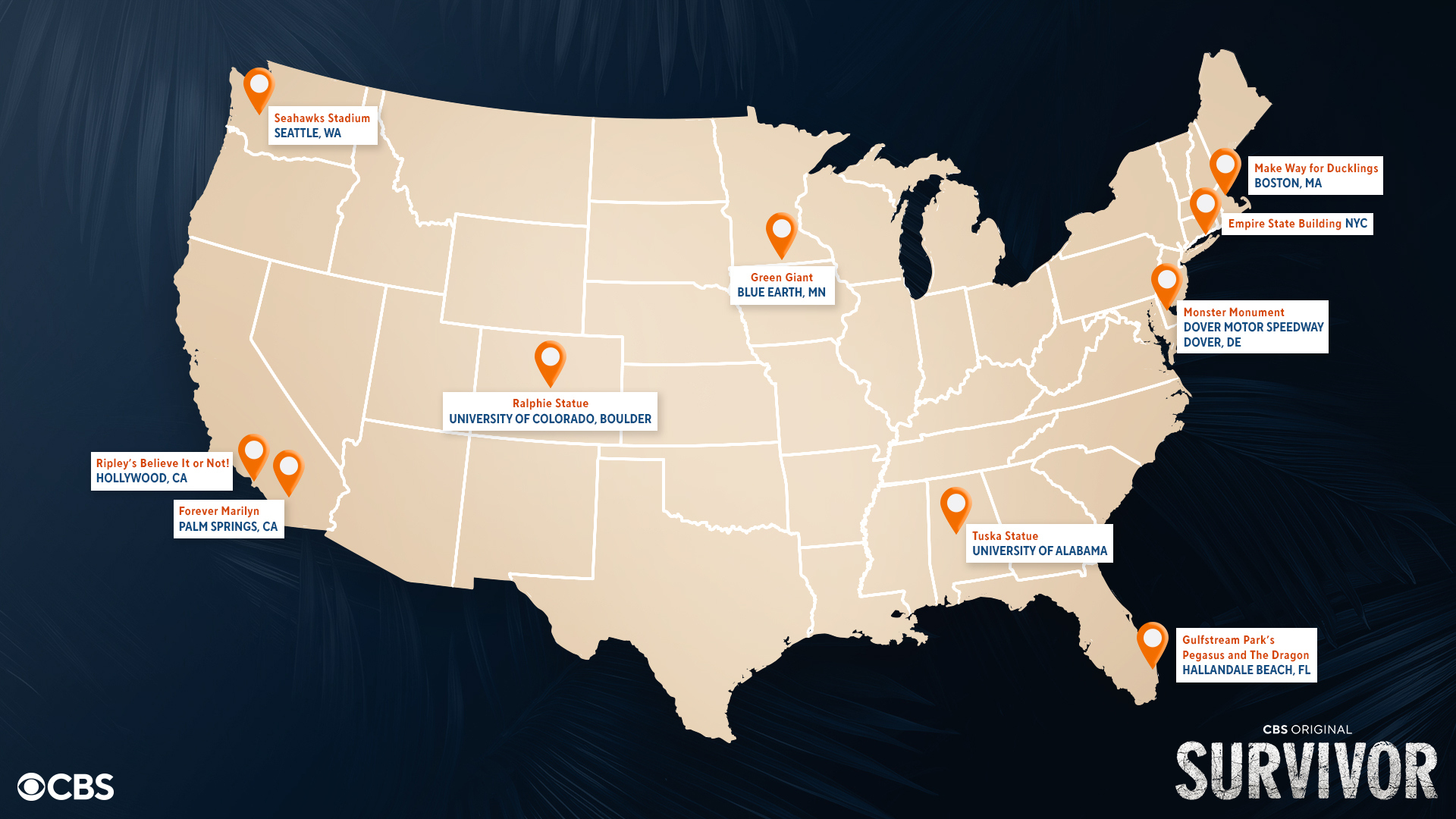 Each of the landmarks or characters symbolizes the concept of strength in its own unique way, from their physical size or their role in honoring an outstanding achievement in their field -- to commemorating a historical figure who has overcome an incredible obstacle. Together, these landmarks parallel the different examples of strength exemplified by the contestants on the show throughout SURVIVOR's 45 seasons.
Fun Facts:
Ranking as the biggest SURVIVOR buff of all time is the one to be worn by Miles the Monster, logging in at 104 X 14 feet! Coming in second and third largest are the 66 X 11 foot-long buff for Pegasus and the 40 X 5 foot-long buff for the Green Giant.
Fans can follow @SurvivorCBS on
Twitter
,
Instagram
, and @CBSSurvivor on
TikTok
for upcoming specifics on the campaign and use #SURVIVORBuffTakeover to join the fun.
Try our SURVIVOR Buff AR Filters to discover your fate:
Instagram filter
HERE
Facebook filter
HERE
Snapchat filter
HERE
TikTok filter
HERE