Back to Cast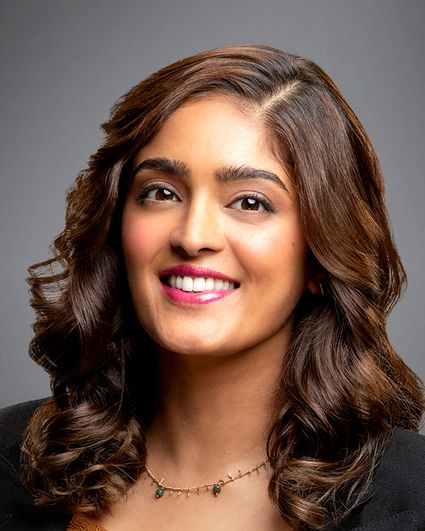 Allie Rajan
Mandeep Dhillon
Biography
Mandeep Dhillon is perhaps best known for her reprisal of sarcastic and uptight math-geek Saz Kaur' on the BBC hit Some Girls written by Bernadette Davis. Recently, she starred in a pivotal role in Star Wars: The Rise of Skywalker. In 2020, she starred alongside Ricky Gervais in season two of the critically acclaimed Netflix series After Life. Also, she starred opposite David Morrissey in the BBC crime thriller The City and the City, and alongside Ashley Walters and Noel Clarke in Sky 1's cop crime thriller Bulletproof.

Prominence on the big screen came in David Brent: Life on the Road, alongside Ricky Gervais. It was nominated for best comedy at the National Film Awards. Other film credits include Jamie Adams' A Wonderful Christmas Time and Garfield, for which she won Best Actress at the Underwire Film Festival.

Dhillon's television credits include Doctor Who, 24: Live Another Day, Finding Fatimah, Hospital People, Wolfblood, Fried, Whitechapel, and Lucky Man, written and produced by Marvel movies legend Stan Lee.

Dhillon hails from London and currently resides in Los Angeles. She trained at the prestigious Central School of Speech and Drama. Her birthday is Dec. 21.

Follow her on Instagram @mandidhillon.